So you're ready to finally get started drawing, but you don't know what you need or how to get started. As a former high school art teacher, I can hook you up!
First of all, you need good paper. Not typing paper or copy paper, but honest-to-goodness artist grade paper that will stand up to good drawing pencils and erasing. My favorite all-purpose drawing paper is 90# sulphite loose paper. But you might prefer a bound pad of paper, so I've linked to both below. Whichever paper you choose, I recommend that you get at least 80# or 90# paper.
You'll also want a good eraser, one that won't buff up the paper and leave ghosts of what you have erased. As long as it's a good quality plastic eraser, you will be fine.
Next, good drawing pencils are a must. If you already have a good quality #2 graphite pencil, that might be all you need. If, however, you want an actual drawing pencil, I've listed a set of chunky ones that I like plus a good pencil sharpener. Choose smaller diameter pencils if that feels more appropriate. #2, #4, and #6 are my favorites.
Choose materials that speak to you. And know that you can pick all these things up at a brick and mortar store. I'm adding links because that is a super easy way to show you exactly what to look for. (And yes, I might receive a tiny commission if you buy at Amazon.)
---
Finally, a real person to teach you will exponentially increase your drawing skill. Watching YouTube videos is good and I learn many things that way. But it's empowering to have someone to support you as you learn. Someone to answer your questions, share your work with, and get regular feedback on your progress. I'd like to be your person.
"Hello. I'm Peggie: wife, mom, gramie, artist, teacher, and reformed self-saboteur."

For years I believed the lies I told myself: I wasn't good enough. I didn't know enough. I didn't have enough talent and skill. Someone else could do it better, so mine wasn't needed.

But God kept nudging me though His Word and His people. He directed me to Bible passages that spoke to my very soul.
I had been reared in a Christian home with Christian parents, gave my heart to Jesus as a child, but it wasn't until I was in my late thirties that my mindset began to shift away from what I didn't have to what I did have: not material things, but intrinsic things like talent, opportunities, skills.

Luke 12:48 ends with this admonition, "For unto whomsoever much is given, of him shall be much required: and to whom men have committed much, of him they will ask the more."

I knew I SHOULD be doing more to further God's Kingdom, but continued to hold back, waiting for all the pieces to fit together. I wasn't even sure what those pieces were!
Tip # - 1 Make a List
List the thoughts that pop up frequently when thinking about following a dream, making a change, or otherwise stepping outside your comfort zone. Before we can correct a problem, we must see and acknowledge the problem. Included on my list was that I didn't have any formal education. I had married right out of highschool, but secretly wanted a college degree. By then all of my four children were in school, so I stepped way outside my comfort and enrolled in college. I became a licensed Biology and Art teacher the year our oldest son graduated high school.
Tip # -2 Keep a Journal
As part of a creative writing class in college, I was required to journal. Although at first it seemed there simply wasn't time in my day for yet one more thing, my journal was therapeutic and saw me through some dark days. Journaling became a habit that continues to facilitate introspection, tracking progress, and planning.
Tip #3 - Use Positive Affirmations Effectively
I taught for seventeen years. When I started, I loved teaching so much I would have done it free! It didn't take long for that opinion to change, but I enjoyed it on most days. Until I didn't.
Knowing that I wouldn't continue long enough to retire from teaching, I got a business license and started working as a professional photographer on the side. Before every portrait session I looked in the mirror and stated positive affirmations: I am ready. I know enough. I have the right equipment.
Was I nervous? Absolutely! Was I scared? For sure!! Did I make mistakes? Mercy yes! But each time it was easier. And each mistake taught me something I needed to know.
Now Positive Affirmations and Journaling are routine parts of my day. I just published a new Coloring/Affirmations book called Change Your Thinking Change Your Life.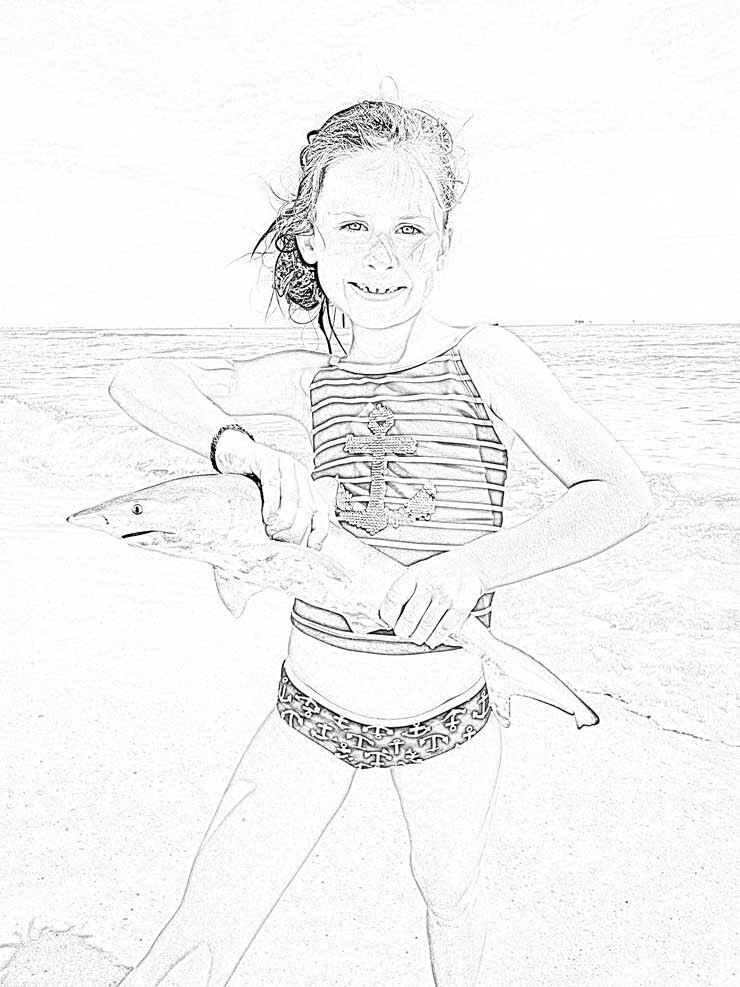 Maggie, my 8 year old granddaughter, is wise beyond her years! (That's her holding a baby shark!) Her teacher recently gave her class an assignment: write about a favorite hobby. (Can I just say how much I appreciate teachers that incorporate writing in their practice?!) Part of what she wrote was this:
I like to write. I like to write because it calms my brain down when I am sad mad or even when I am frustrated.
Scientific data confirms what she says is true. It's been found that within the first few seconds of experiencing a negative emotion, people automatically tense the muscles in their jaw and around the eyes and mouth. And with repeated stress, over time stressed out people have shorter and shorter neck and shoulder muscles. If you want an interesting rabbit hole to go down, ask Ms. Google to tell you about how emotions can make us sick! We actually change our bodies by our emotions! Woah! That is reason enough to pull out a pencil and start writing, because like Maggie says, writing DOES make our days better.
If you're new to journaling, you may be intimidated by a blank journal page. It's a common stumbling block, especially if you incorporate art into journaling. Thankfully, if we just get still and commune with God, He will guide us.
Today, while thinking about how wonderfully we have been created in God's own image, I thought about fingerprints. Of all the millions and millions of people on Earth, each fingerprint is unique and different.
And just like that, I knew what to put in my journal! I would start with a modified thumbprint and use it as the guideline for one of my favorite chapters in Psalms, Chapter 101. It contains a verse that I use as an affirmation before going online: I will set no wicked thing before mine eyes.


Affirmations help to set the intention we want and need. Stating them as a positive makes them more powerful. But as we're trying to purge our minds of wicked things, we can't just purge without replacing. No one want a vacuous mind! It would be fertile ground for the devil to plant wickedness. So if we fill our minds with is scripture, we root out Satan: Thy word have I hid in my heart that I might not sin against thee. Psalm 119:11
Here's the whole text of Psalm 101 in case you're encouraged to try the technique I shared in the video above.

1 . I will sing of mercy and judgment: unto thee, O
Lord
, will I sing.
2. I will behave myself wisely in a perfect way. O when wilt thou come unto me? I will walk within my house with a perfect heart.
3. I will set no wicked thing before mine eyes: I hate the work of them that turn aside; it shall not cleave to me.
5. Whoso privily slandereth his neighbour, him will I cut off: him that hath an high look and a proud heart will not I suffer.
6. Mine eyes shall be upon the faithful of the land, that they may dwell with me: he that walketh in a perfect way, he shall serve me.
7. He that worketh deceit shall not dwell within my house: he that telleth lies shall not tarry in my sight.
8. I will early destroy all the wicked of the land; that I may cut off all wicked doers from the city of the Lord.
I pray this blesses you. For more Live Well - Be Well content, join our private Facebook community.