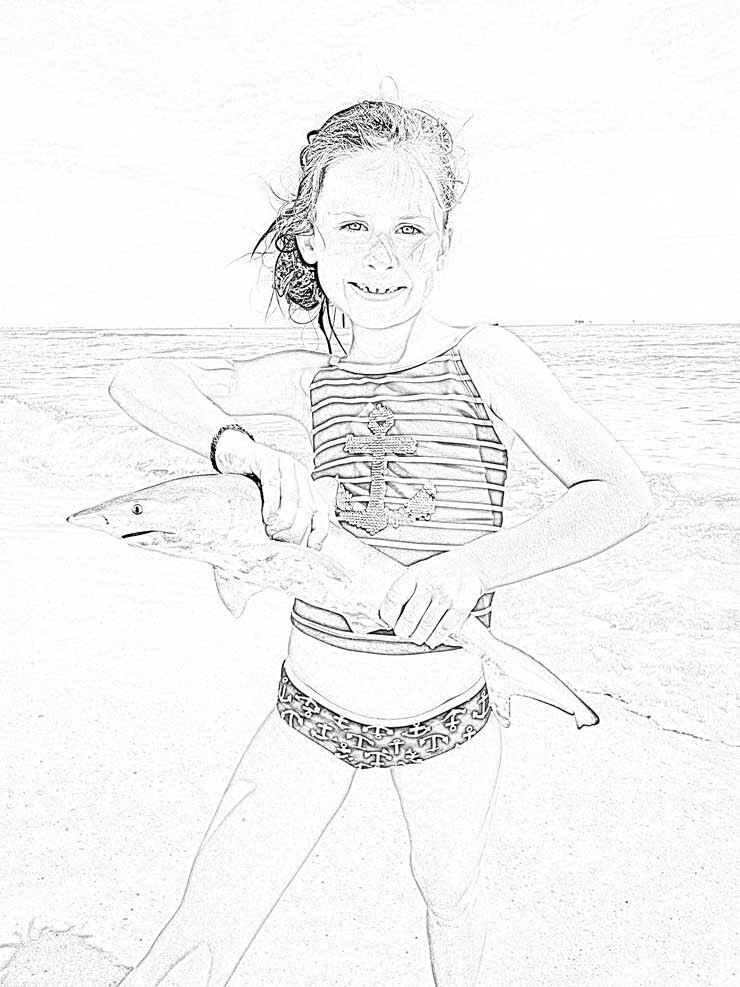 Maggie, my 8 year old granddaughter, is wise beyond her years! (That's her holding a baby shark!) Her teacher recently gave her class an assignment: write about a favorite hobby. (Can I just say how much I appreciate teachers that incorporate writing in their practice?!) Part of what she wrote was this:
I like to write. I like to write because it calms my brain down when I am sad mad or even when I am frustrated.
Scientific data confirms what she says is true. It's been found that within the first few seconds of experiencing a negative emotion, people automatically tense the muscles in their jaw and around the eyes and mouth. And with repeated stress, over time stressed out people have shorter and shorter neck and shoulder muscles. If you want an interesting rabbit hole to go down, ask Ms. Google to tell you about how emotions can make us sick! We actually change our bodies by our emotions! Woah! That is reason enough to pull out a pencil and start writing, because like Maggie says, writing DOES make our days better.
If you're new to journaling, you may be intimidated by a blank journal page. It's a common stumbling block, especially if you incorporate art into journaling. Thankfully, if we just get still and commune with God, He will guide us.
Today, while thinking about how wonderfully we have been created in God's own image, I thought about fingerprints. Of all the millions and millions of people on Earth, each fingerprint is unique and different.
And just like that, I knew what to put in my journal! I would start with a modified thumbprint and use it as the guideline for one of my favorite chapters in Psalms, Chapter 101. It contains a verse that I use as an affirmation before going online: I will set no wicked thing before mine eyes.


Affirmations help to set the intention we want and need. Stating them as a positive makes them more powerful. But as we're trying to purge our minds of wicked things, we can't just purge without replacing. No one want a vacuous mind! It would be fertile ground for the devil to plant wickedness. So if we fill our minds with is scripture, we root out Satan: Thy word have I hid in my heart that I might not sin against thee. Psalm 119:11
Here's the whole text of Psalm 101 in case you're encouraged to try the technique I shared in the video above.

1 . I will sing of mercy and judgment: unto thee, O
Lord
, will I sing.
2. I will behave myself wisely in a perfect way. O when wilt thou come unto me? I will walk within my house with a perfect heart.
3. I will set no wicked thing before mine eyes: I hate the work of them that turn aside; it shall not cleave to me.
5. Whoso privily slandereth his neighbour, him will I cut off: him that hath an high look and a proud heart will not I suffer.
6. Mine eyes shall be upon the faithful of the land, that they may dwell with me: he that walketh in a perfect way, he shall serve me.
7. He that worketh deceit shall not dwell within my house: he that telleth lies shall not tarry in my sight.
8. I will early destroy all the wicked of the land; that I may cut off all wicked doers from the city of the Lord.
I pray this blesses you. For more Live Well - Be Well content, join our private Facebook community.