While Mom was still living, but lost in the fog of Alzheimer's, occasionally someone from her past would come to visit. On one of those serendipitous visits with our good friend Elaine, I took this photo. Mom did not like being photographed. But as I was showing our Elaine my studio while we laughed and reminisced, it became much like a game of musical chairs. But instead of moving when music stopped, they moved when the studio lights flashed.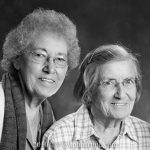 Mom passed away three years ago. It took me several months before I could return to our pew at Striker Bible Church. No, it wasn't ours. It was just where we always sat. But we hadn't occupied it for at least two years. Alzheimer's is a demon!
Anyway, after Mom passed, I found many things to do to occupy myself and stave off the grief... Except during church. I just sobbed. And I'm not a crier! I thought. I'd walk in with great intentions. Greet people like always. Hug and pass pleasantries, and sit down in our pew. The service would start and the eye faucet would get stuck on. At first I quietly went to the bathroom to get myself under control. Nothing doing! Sometimes I'd just sneak out the back and go back home.
Finally I switched pews AND the side of the church I sat on and was finally able to turn the faucet off. Elaine sat in the pew I had adopted as mine. She was a treasure. A fixture at SBC all my life. She loved on me and was exactly what I needed at that time.
Then our Pastor resigned and Jennie, his wife and our expert pianist, was no longer there. Guess who plays piano? Guess who by default became the pianist? Elaine would greet me each Sunday morning with, "Oh, I'm so glad you're here!" She made me feel adequate and loved and appreciated. I treasured her.
Not long ago Elaine's daughter asked me three questions:
"Did you still have the photo of Mom that you took? "

"May we use it in her obituary?"

And the one that sent terror to my soul, "Will you sing I Can Only Imagine at her funeral?"
The first two were easy. The third... I do like to sing, but not by myself and not the lead part. I like to harmonize, either tenor or alto.
But I loved Elaine. I love her family. I felt God nudge me with I'll be with you. I'll give your courage. This is a gift you can give Elaine.
What are the hard things you've had to do in the name of love?